Evermore Orlando Resort Announces Partnership With Siemens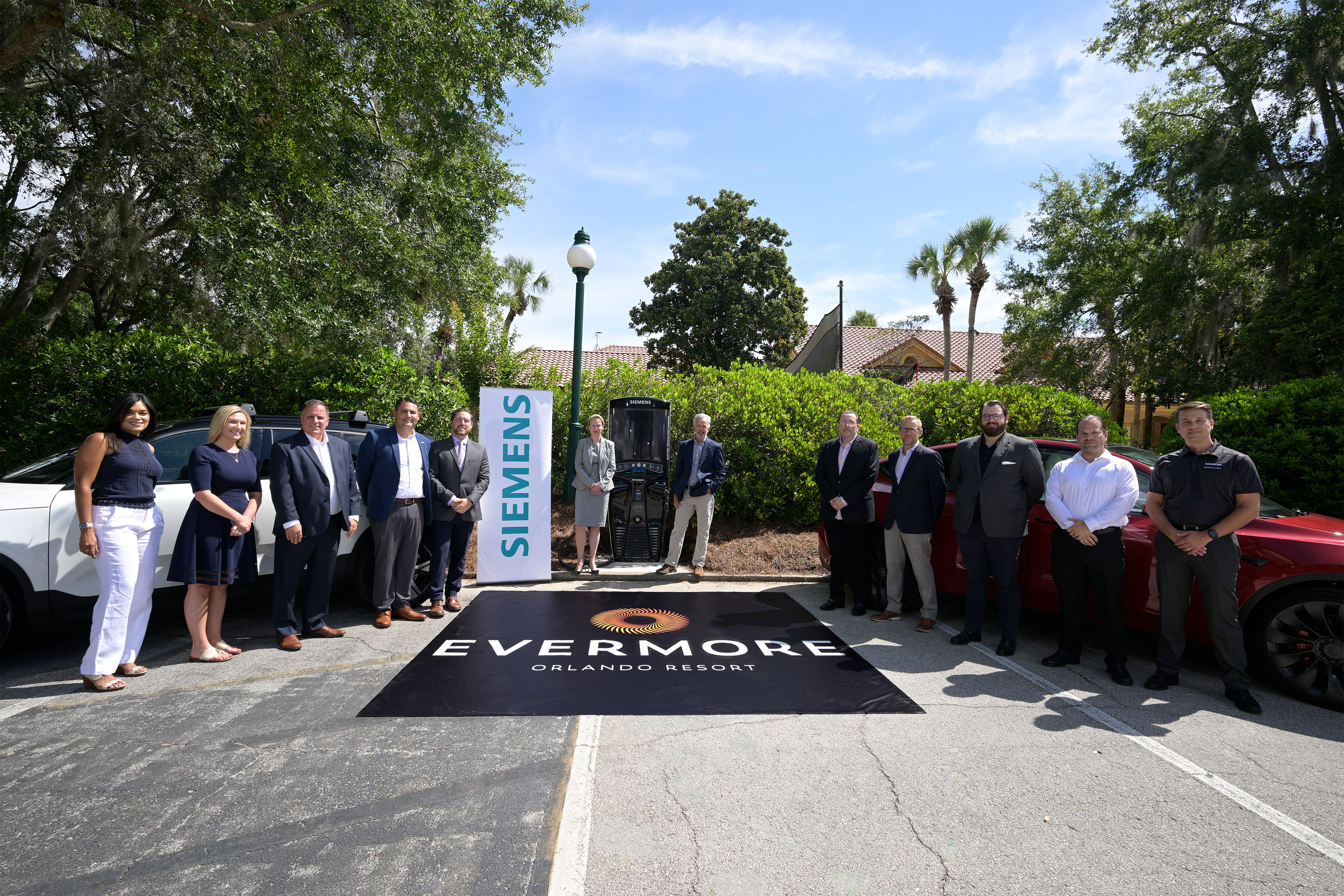 (ORLANDO, Fla.; January 1, 2022) – Evermore Orlando Resort, the highly anticipated luxury vacation rental destination bordering Walt Disney World®, today announced its partnership with Siemens to bring ultramodern sustainable automotive charging technology to the premier Orlando vacation destination. Developed by Dart Interests and set to open in 2023, Evermore Orlando Resort will be the first property in North America with environmentally friendly, rapid charging options for a sustainable future across the entire 1,100-acre resort complex.
Evermore's first phase will open with nearly 1,500 bedrooms spread among an array of stay experiences, along with 11 custom branded VersiCharge Ultra DC fast EV charging stations from Siemens across the property. Guests will be able to quickly charge up from the comfort of Evermore's private homes, villas, flats, and the new Conrad Orlando, which will debut as the latest addition to the Conrad Hotels & Resorts portfolio, Hilton's (NYSE: HLT) contemporary luxury hotel brand. Siemens is also offering its expertise by collaborating with Evermore on the electrical infrastructure planning and providing its electrical components for the project. As a sustainable amenity, the universal charging stations will provide guests with easy, open, and accessible charging that works with any standard EV model for guests traveling from neighboring states and the regional drive market.
Conceptualized to reimagine luxury vacation rentals, Evermore Orlando Resort has set out to introduce a portfolio of diverse accommodation offerings that will revolutionize standard resort structures.  The collaboration between Siemens and Evermore is the most recent example of these offerings and marks the latest in automotive charging and data collection capabilities for the future of luxury vacation rentals and the larger hospitality industry. 
"With the expeditious adoption of electric vehicles worldwide, we saw the charging stations as a fundamental component to the property's larger sustainability initiatives," said Stewart Brown, executive vice president of Dart Interests. "Through our partnership with Siemens, we will have the capability to offer smart technology that can make a necessary impact now that will continue to evolve as the technology progresses and the needs of our guests advance in the future."
Evermore will have access to unique, anonymous data collected by employing Siemens' full Control package software application provided by EvGateway, a member of Siemens eMobility Partner Ecosystem. Through this technology, the resort can manage and monitor the systems using the software that has been designed to connect and seamlessly control EV charging stations that utilizes multiple applications, such as residential and public parking from a central location. The sophisticated technology will also allow Evermore to smartly manage the resort's energy use and adjust to minimize its carbon footprint. 
"We have created an integrated product, and software and service portfolio that works perfectly for a property like Evermore Orlando Resort," said Ruth Gratzke, president of Siemens Smart Infrastructure U.S. and CEO of Siemens Industry, Inc. "With a property of its size, the low-voltage distribution, utility-scale systems, and monitoring software will empower the property to offer a level of sustainability, accessibility and convenience that other resorts are not yet able to offer." 
The partnership with Siemens will also provide Evermore with the ability to own and operate their own electric vehicles which could be used to transport guests conveniently and sustainably to Walt Disney World® and Orlando's other sought-after attractions.
Bookings for Evermore Orlando Resort are slated to launch later this year with the grand opening for the first guests anticipated for fall 2023.
For more information about Evermore Orlando Resort, Siemens, and Siemens Smart Infrastructure, please visit https://evermoreresort.com or https://www.siemens.com/global/en.html. 
About Dart Interests 
Dart Interests is a U.S. real estate development and investment firm solely owned by the Dart Family. Dart Interests has a growing portfolio of more than $1 billion currently invested in real estate projects across seven states. With an emphasis on long-term value creation, our structure enables the firm to be flexible as well as purposeful in developing leading-edge properties in both urban and resort settings. Our combination of available capital and industry expertise gives the organization the freedom to take calculated risks and produce meaningful results. Based in Dallas, Dart Interests also has regional offices in Orlando, Charlotte and Houston.  For more information, visit: dartinterests.com.
About Siemens
Siemens Smart Infrastructure (SI) is shaping the market for intelligent, adaptive infrastructure for today and the future.  It addresses the pressing challenges of urbanization and climate change by connecting energy systems, buildings, and industries.  SI provides customers with a comprehensive end-to-end portfolio from a single source – with products, systems, solutions, and services from the point of power generation all the way to consumption.  With an increasingly digitalized ecosystem, it helps customers thrive and communities progress while contributing toward protecting the planet. SI creates environments that care. 
About Conrad Hotels & Resorts
Spanning five continents with more than 40 properties, Conrad Hotels & Resorts has created a seamless connection between bold design, impactful experiences and curated contemporary art to inspire the conscientious traveler. Conrad is a place where guests are empowered to explore through intuitive service and experiences that authentically connect them with local culture. Experience an inspiring stay at Conrad Hotels & Resorts by booking at conradhotels.com or through the industry-leading Hilton Honors app. Hilton Honors members who book directly through preferred Hilton channels have access to instant benefits. Learn more about Conrad Hotels & Resorts at stories.hilton.com/conradhotels, and follow the brand on Facebook, Instagram and Twitter.
About Hilton
Hilton (NYSE: HLT) is a leading global hospitality company with a portfolio of 18 world-class brands comprising 7,000 properties and 1.1 million rooms, in 122 countries and territories. Dedicated to fulfilling its founding vision to fill the earth with the light and warmth of hospitality, Hilton has welcomed more than 3 billion guests in its more than 100-year history, earned a top spot on Fortune's 100 Best Companies to Work For list and been recognized as a global leader on the Dow Jones Sustainability Indices for five consecutive years. Hilton has introduced several industry-leading technology enhancements to improve the guest experience, including Digital Key Share, automated complimentary room upgrades and the ability to book confirmed connecting rooms. Through the award-winning guest loyalty program Hilton Honors, the 139 million members who book directly with Hilton can earn Points for hotel stays and experiences money can't buy. With the free Hilton Honors app, guests can book their stay, select their room, check in, unlock their door with a Digital Key and check out, all from their smartphone. Visit stories.hilton.com for more information, and connect with Hilton on  Facebook, Twitter, LinkedIn, Instagram and YouTube.